Oven safe up to 350 degrees F and dishwasher safe, the 12 piece T fal Signature nonstick cookware set includes 7.75 inch and 11 inch fry pans, 1 quart and 2 quart sauce pans with lids, a 5.5 quart dutch oven with lid, a 10.25 inch griddle, and a spoon, ladle, and slotted spatula.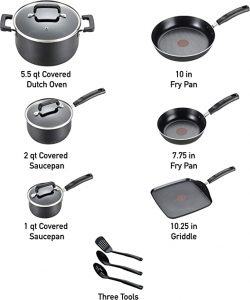 The lids to the set are pretty well made. they have plastic over the handles will keep you from burning your hands if you have to remove the lids and feel like it will hold up OK over time. there is a plastic, or silicone spacer between the handle rivets and the glass so that should help protect the glass from breaking due to the metal up against glass. Also, the lids fit perfectly on both, the fry pans and the pots, so you have a way to cover both without having to worry about splatter..
the handles feel decently made. Not great, but pretty good. On a scale from 1 to 10, 10 being great, i would give the handles a 6.. maybe 7 if i was feeling generous. The Nonstick coating works good from what I have seen so far.
Non stick does have its advantages, like not having to use any kind of grease or oils when cooking, but at the same time, there is one major flaw to non stick coatings.. you can not brown food..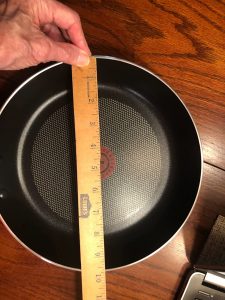 These cook the food fine, but you know how you take a roast and brown or caramelize a roast so that it gets that nice brown glaze in the bottom which is really good if you plan on making home made gravy, or for flavoring the stock in a roast so the flavor goes into the other foods when you cook a roast.., From what I have seen, any non stick pan i have ever used sucked at giving any kind of that browning or caramelizing.
It cooks the food with not problem, but you dont get that bit that makes good flavoring or gravy material. If you plan on it, get a pan that is non stick for that purpose.. then after you do the initial caramelizing of the meat, then put all that in these pots if you want. but that is one major draw back to non stick coatings on cookware.
Use the plastic tools they came with and dont clean with metal pads…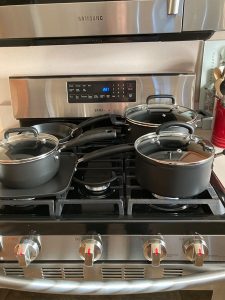 Heats up Really Well! Cooks really fast and efficiently! EASY TO CLEAN. Scratch resistant is on point.