Whether you are on a crockery run for your first kitchen or looking to replace the old pots and pans, a complete kitchen cookware set is worth investing in. Based on the customer data, we've picked the top 10 kitchen cookware sets for you. Getting pots and pans of similar build and design makes you familiar with the heating pattern and the cleanup process. While listing here, we kept in mind the design, durability, heat distribution, ease of handling and cleaning, and price.
Let's quickly move through the features to help you land the best cookware set for you.
Top 10 Kitchen Cookware Sets –Ultimate Guide
This aesthetically pleasing nonstick cookware set makes you desperate to try your new recipe. It is a complete kitchen cookware set that you would want to have. You get 20 pieces that include stew pots. frying pans, baking dishes, and kitchen tools.
The NutriChef aluminum set features a non-stick coating for easy tossing and food release. You would not even need to add oil or butter for eggs and pancakes. The coating is also easy to clean but you need to make sure that you're not using any tools or cleaning material that can scratch it. Moreover, the exterior is resistant to high heat.
With cool-touch handle grips, it makes the cooking experience comfortable. You can also see through the lids if the rice has absorbed the water. The heat distribution is also even and it is oven safe having 500 oF temperature tolerance.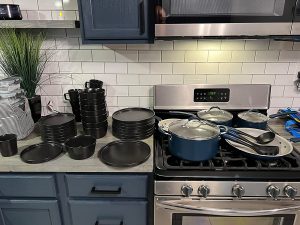 Pros
Beautiful matt gold finish and extremely durable design
Non-toxic healthy cookware
Even heating and easy cleanup
Heat-resistant exterior and cool-touch handles
Suitable for all cooktops
Cons
Gets scratched with a wooden spoon and sponges so, you need to be cautious
BELLA cookware set is perfect for college students or first-time apartment renters. It contains all the essentials including a dutch oven, saucepan, frying pans, and cooking utensils.
This day-to-day cooking set has a stylish design with a non-stick coating. You can flip an omelet like a pro. When done preparing your favorite meal, you can easily carry the pot with the soft touch handle. Moreover, this versatile cookware set is compatible with electric, gas, glass, or ceramic stovetops.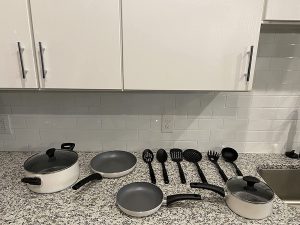 Pros
Wellmade and stylish design
Non-stick coating for easy food release
Easy to clean and handle
Great starter cookware kit
Kitchen tools are also included
Worth the price
Cons
Kitchen utensils are flimsy
This is a chef-approved cookware set featuring hard anodized aluminum pans with stainless steel handles. The 14-piece set includes saucepans, saute pan, a stockpot, skillets, and a steamer insert for a versatile cooking experience. These pans have rims that are tapered for drip-free pouring.
With 4 layers of non-stick coating, it ensures healthy cooking, and easy cleanup, and makes food release effortless. They provide even heating but if you want high-temperature searing then you should shift from ceramic to cast iron or stainless steel as the high flame can burn oil and the coating as well.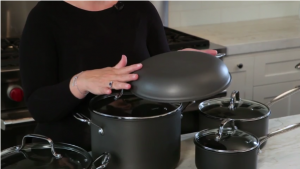 Pros
High-quality modern and clean design
4-layer thick non-stick coating
Great heat distribution and easy cleanup
Space-saving as they are easily stacked
Good product for the price
Cons
The handles on the lids get hot but you can use a hot pad
Gotham Steel nonstick ceramic cookware set is another in our list that includes bakeware and cookware to level up your culinary skills. This insta-worthy aqua blue set has stockpots, saucepans, skillets, frying pans, and a fry basket for cooking delicious dinners, frying your teatime snacks, and a PRO 5 pc baking set to enjoy baking brownies, banana bread, and pizzas.
The ceramic surface is coated 3x and reinforced with titanium to ensure easy food release and healthy eating. It is dishwasher safe and also durable enough to withstand kitchen utensils that are metal-based but, it is better to use tools that do not scratch the surface. In addition, the stainless steel handles stay cool and escape the heat through the Y-shaped design. The pots and pans are stovetop and oven-safe up to 500 oF.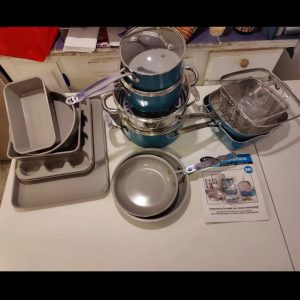 Pros
Pretty and durable full cookware set
Quick and even heating
No discoloration after a long boiling session
Super easy to clean and handle
Worth the price
Cons
It is advertised as aqua blue but you get ocean blue. If you're not a picky person, then that's not a problem.
With this 21-pc aluminum cook set, your kitchen shopping gets sorted. It includes saucepans, square pans, frying pans, a deep frying basket, a stockpot with lid and dutch oven, and a 6-piece knife set. Each piece features ultra-nonstick technology to ensure easy food release. The triple-coated titanium and infused minerals make it long-lasting.
Similar to other cookware models, these pots and pans are easy to clean and have ergonomic handles that stay cool while cooking. The set is also compatible with induction counter cooktops and can be used in the oven.
Pros
Beautiful emerald green color and ultra-durable design
Excellent ultra nonstick technology
Effective heat distribution
It is a very lightweight set
Effortless cleanup
Cons
It should be used at low to medium temperatures only to avoid burning the coating
This granite black induction cookware set comes in 12 pieces –saucepan, frying pans, casseroles, and nylon utensils. The stylish design with gorgeous handles makes it great for a farmhouse kitchen.
With graniteware coating, you get excellent nonstick capabilities preventing food from sticking. You would not need to add oil which provides a healthy cooking experience. The coating is also 100% toxin-free ensuring that it does not have lead, PFOA, and PFOS. The cleanup is a breeze.
When you heat the pan, the aluminum core heats up quickly and evenly. In addition, the aesthetic handles are made of bakelite which offers great heat resistance and electrical insulation. It would be a great choice for 2 people.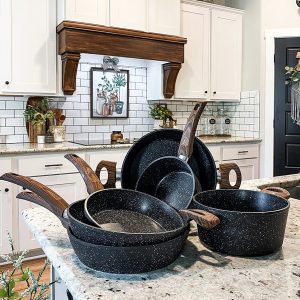 Pros
Stylish and heavy-duty cookware set
Heat-resistant lightweight handles
Fast and even heating
Easy cleanup
Induction compatible
Reasonable price
Cons
The handles and knobs become loose but they can be tightened
This black set with red silicone handles includes all the necessary cookware and bakeware for daily use. You get a dutch oven pot, fry pans, baking pans, and kitchen utensils.
The multi-sized pots and pans feature a long-lasting nonstick coating for effortless food release and healthy cooking. The handles are heat-resistant and the smooth design gives a great touch to the pots and pans. Equipped with see-through lids, they give you an idea of how much time is left for the food to be prepared. The heat distribution is even and they are compatible with electric, gas, and ceramic cooktops.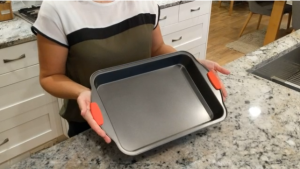 Pros
High-quality and lightweight design
Easy to use and clean
Effective heat distribution
Good-sized cookware
Great non-stick coating
Cons
The silicone gets hot in the oven so, you need to use gloves
The T-fal signature nonstick cookware set is made of heavy gauge aluminum with vented see-through lids. It includes fry pans, saucepans, a dutch oven, a griddle, and utensils. Featuring a non-toxic coating, it is easy to clean and great for low-fat cooking. The Thermo spot heat indicator preheats the pan well for proper sautéing and searing. It heats evenly and works for all cooktops except induction.
The handles are heat-resistant and provide a comfortable grip. This T-fal set can withstand oven temperatures up to 400 oF and lids can tolerate a maximum temperature of 350 oF.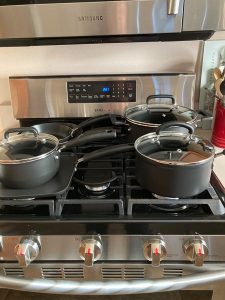 Pros
Good quality nonstick set
Great heat distribution
Heat-resistant and comfortable handles
Quick cleanup
Reasonable price
Cons
This hard anodized nonstick cookware set contains three-sized pans. The titanium-reinforced interior is perfect for browning, frying, and sauntering. You can flip the eggs and clean the pan just like it is shown in TV commercials. With the Thermo spot indicator, it is easy to know when your pan is ready for cooking. The riveted handles provide safe and comfortable handling.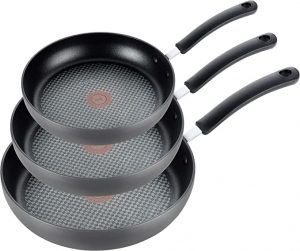 Pros
Well-made and heavyweight pans
Amazing nonstick surface
Thermo-Spot technology
Even heating and cooking
The cleanup is super easy
Cons
Only compatible with gas stovetop
This is an extensive hard anodized cookware set including a Dutch oven, saucepans, frypans, deep saute, streamer insert, griddle, and egg wonder pan. The hard titanium reinforced interior is scratch-resistant, nonstick, and toxin-free that delivers effortless food release, healthy cooking, and easy cleanup.
When the ring turns red, your pan is preheated and ready for cooking. The riveted handles offer safety and comfort while cooking. Moreover, the glass lids offer visibility and are vented to trap enough heat. This T-fal cookware set is suitable for all stovetops except induction. It is also oven-safe up to 400 oF.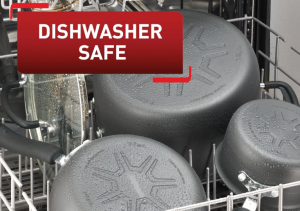 Pros
Lightweight and sturdy design
Long-lasting non-stick coating
Stunning heat distribution
Excellent grip
Reasonable price
Cons
It could be a bit heavier for a better experience
Conclusion
So this wraps up the top 10 kitchen cookware sets. When choosing the best cookware set, you need to consider the material, the number of pieces, the weight and size of the pots and pans, handles, cooktop compatibility, and dishwasher and oven safety. Whether you are a pro chef or struggle with boiling water, we've sorted it all for you.
Even when labeled as dishwasher safe, it is better to handwash the pots and pans for long use. Use only utensils that do not scratch the nonstick coating. One last thing, you need to be careful with the heat as high heat can burn the coating. Happy cooking!