Heavy duty and stylish!!
Kitchen Academy – These pots and pans are very pretty and durable. They go well with farmhouse/antique theme in kitchen.
The wood look handles have a nice touch, like a silicone material that doesn't get hot. The Handles are gorgeous and they're comfortable to hold. They are light weight but cook food without sticking and every!
Granite Cookware Set
If you're looking for nonstick cookware that can replace your pans, then you've probably heard of granite cookware. Granite cookware tends to be a better alternative to ceramic cookware due to its higher durability and aesthetic qualities.
Aluminum is a great conductor of heat which makes it an ideal choice for cookware. Aluminum has a thermal conductivity that is 16 times that of stainless steel. Aluminum cookware will heat up quickly, evenly and 16 times faster than a stainless steel pot!
Christmas Gift
PACKAGING & PROTECTION
Use multiple protection packaging materials to safeguard and shield cookware set from damages during transportation or storage.
We sure that the packaging we have designed and built will hold up under the shipping and handling conditions specify.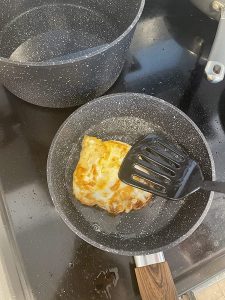 Love to cook in theses pans!!
They are so easy to clean, durable, and very non-stick.
Nothing sticks. Everything cooks easily … Food just comes right out. Eggs cook perfect… Anything you cook you will be impressed.
This set actually makes it fun to cook again!
Heat evenly & quickly
When you heat the cookware, it heats evenly and quickly. This means that you have more control over the cooking process, which can lead to better results.
So easy to clean!
The mess literally slips right off. They rinse out, no need to scrub, nothing sticks. They wash out very easy and fast.
About this item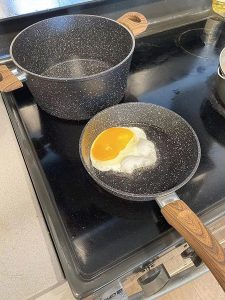 Kitchen Cookware Set 12 piece – Include 8-inch fry pan / 9.7-inch fry pan / 9.7-inch Deep Fry Pan with lid / 1.5Q saucepan with lid / 3Q casserole with lid / 5Q casserole with lid / 2 pcs nylon utensils. The Interchangeable lid can be used for fry pan. Easy Clean & hand wash recommend!
Nonstick Pots and Pans Set – When buying cookware, one of the important things is nonstick capabilities. The graniteware coating do a good job in preventing food from sticking. Also, you'll be able to cook healthier meals for your family since you won't have to use as much oil. You can safely cook tomato sauce in granite cookware cookware, the taste and smell of your food will not change even if you use acidic or strong-smelling ingredients.
Toxin-free Cooking Set – When buying a new set, make sure that it clearly indicates that it is lead, PFOS, PFOA-free. These are the three things that you don't want to have in your cookware because of their potential health dangers. Fortunately, you can get granite cookware that are free of these harmful chemicals.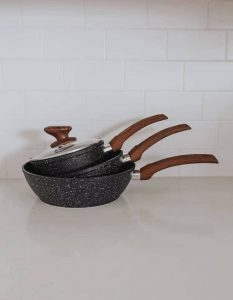 For more healthy & Eco-freiendly.
Induction Cookware Sets – When it comes to the interior, this cookware uses an aluminum core. The result is that the pan heats up quickly, and more importantly, distributes heat evenly. The cookware set works on all major types of cooktops. Larger high magnetic conductive stainless steel base ensure induction compatible, especially glass stove
Pots and Pans with Bakelite Handle – Bakelite is used because it has heat-resistant properties and is an electrical insulator. Bakelite would not burn when exposed to high heat. Bakelite is safe up to 350 degrees F, for a limited time.
Dark bakelite handle is more stain-resistant and easy to clean too.
Great Quality & Service – Quality first, Service Utmost. All cookware sets purchased have a 365 Days warranty as standard. If you meet any problems, don't hesitate to contact our 24/7 online customer service which will reply to you ASAP to help with your worries.
Heavier than I expected, so easy to clean – nonstick pans. They kinda remind me of granite ware pans but they're better. I have used them on the induction burner, and on the electric stove. They work great. Plus I really like the cool handles. The handles feel really nice and they don't get hot.
I was impressed by the look and its quality. Such a beautiful set! So surprised!! And I can drop my old pots now.
B08W547JH2